Looking to Make Your Shed More Unique? Give It a Personality with Useful Accessories
Who says a shed must be boring and lacking personality? Make your shed standout from all the others in your Lancaster, PA, neighborhood and add functionality with beautiful shed accessories. Get the function you want without compromising style when you work with the experts at Stoltzfus Woodworks!
We believe that your shed or garage should satisfy your storage needs and look visually appealing doing so. Our variety of storage shed accessories will transform the look of your shed from ordinary to eye-catching, whether we are crafting you a new one or you have an older shed you want to upgrade.
Contact Us About Our Shed Accessories
Accessory Options
Customizing your shed is a breeze with so many options. Spruce up the appearance and add convenience and functionality with our available selection of shed accessories.
Flower Boxes
These flower boxes are excellent outdoor storage shed accessories when you want to add a bit of life to your shed. They come in a few different styles to best suit your structure, and you can use them to plant everything from flowers to herbs. After seeing how lovely they are when positioned on your shed, you may want to come back for one to hang under your kitchen window! These boxes are popular with seasoned gardeners and casual flower growers alike.
Flower Box Holder
An elegant addition to any shed, the flower box holder will hold your flower boxes securely in place while giving them a bit of stylistic flair. These holders go well with any shed type and suit any flower box style. Many of our customers compliment the look of these holders, and when you add them to your customized shed, you add some extra style without much effort! And if you have an older shed in need of an upgrade, these can be an easy solution.
Vents
Depending on what you are using your shed for, installing a few vents may not be a bad idea. A potting shed or a structure used as an animal shelter may need more ventilation and air circulation than a building meant for outdoor equipment storage. Vents offer a stylish, permanent solution to solve any ventilation issues, and you don't have to worry about remembering to open and close them.
Cupolas
Add some ventilation and let more natural lighting into your shed with a cupola. These can be decorative if you just like the look, but cupolas can also serve functionally, depending on the purpose of your shed. Add cupolas to barns or small structures that house animals to help ventilation.
Adequate light is also essential for their health! If the inside of an animal home gets too humid, or isn't well ventilated, animals can quickly get ill and pass that sickness around to their neighbors.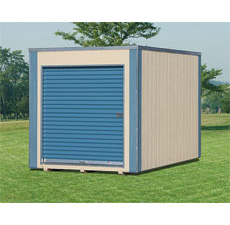 Rent-A-Box
Want a quick storage solution with no frills? Our rent-a-box options are available for rent or purchase, so you can have the storage space you need without waiting. There are several sizing options, so no matter what you need to store, there's a solution for you!
These storage options can be great while you wait for your finished shed or trial out what you might use your shed for before you get one. Some of our customers have even used these to store belongings while they remodel a room in their home.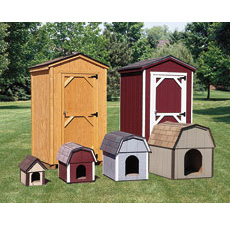 4'x4' A-Frames
Stop worrying about where you're going to store your gardening tools and accessories and where your animal can rest safely in the yard! When you need something smaller for storage or a space for your pet to call home when they are playing outside and need a break, we have options for you.
Choose a smaller storage building for storing rakes, gardening tools, or anything else you might want to keep outside. And our pet boxes come in various sizes, so you can choose the one that fits your pet the best.
Ramp
Ramps are an excellent addition to your shed or garage because they make the space in your shed more accessible. It's much easier to store your lawnmower if you can roll it up into your shed from the lawn with a ramp. Accessibility is also essential for those who may utilize mobility aids, so adding a ramp can benefit others who want to access your shed, too!
Diamond Plate
Diamond Plate can be either a protective element for your shed floor or a simple stylistic choice. This addition is great for protecting the edges where your shed door meets the base of the shed. The metal will shield the edges from damage over time. It could also just be an aesthetic addition, as it can tie the look of your shed together.
---
Contact Us
When you need high-quality shed accessories right here in Lancaster, PA, look no further. At Stoltzfus Woodworks, we want your shed to look precisely how you want, so we offer many customizable options. Regardless of your style, we will work with you to ensure your storage shed accessories match your aesthetic.
Not sure which shed accessories to choose? Want something you don't see here? Contact us today to get the answers to all your questions!
Contact Us About Our Shed Accessories