Every Kind of Animal Structure
Whether you're looking for convenient shelter for your horses, are looking for a complete chicken coop package or want quality shelter for man's best friend, Stoltzfus Woodworks offers quality animal shelters for every need!
Horse Barns
Give your horses the shelter they deserve with a quality horse barn from Stoltzfus Woodworks. Featuring a Quaker-style roof with overhang and 30 year shingles and all-wood construction, our horse barns come in a variety of sizes to suit your needs. Outfit your horse barn with an optional tack room to store feed or riding gear. Choose from painted Duratemp or Board & Batten siding. Horse barns come with covered kickboard for durability and safety.
Run In Sheds
The perfect shelter for grazing horses, our run-in sheds offer as-needed protection from sudden rain or other inclement weather. Our run-in sheds are available in a variety of sizes to accommodate a single horse or multiple horses and feature a built-in kickboard for durability and horse safety. All-wood construction, Quaker-style roof with overhang and Duratemp painted siding are all standard features on our line of quality run-in sheds.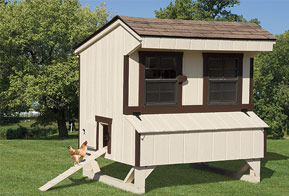 Chicken Coops
Packed with everything you need to raise happy and healthy chickens, our chicken coops are a convenient option for the farm or backyard. Featuring all-wood construction our 5x6 chicken coops are perfect for up to 10 chickens and come standard with Quaker-style roof, nesting boxes with exterior access, 2 windows, wood roosting bars, chicken door with convenient ramp and glass board flooring for easy clean-out. All chicken coops built with Duratemp painted siding.
Dog Kennels
Give your working or hunting dogs a place to call home with a variety of dog kennels and runs from Stoltzfus Woodworks. Available in sizes from 6'x10' or 8'x10' and beyond, our dog kennels feature all-wood construction, A-frame style roofing and quality chain-link fencing for secure all-weather protection your dog will appreciate.