Are You Ready to Plan Your Shed's Look? Try Our Custom Shed Builder App
A shed is a terrific investment for your home. It can be an extra storage room for your holiday decorations and bins of seasonal clothing or a potting shed where you cultivate cuttings so they can grow into beautiful plants in the future. It can feel overwhelming to pick out what you want for your shed without seeing it, which is why we at Stoltzfus Woodworks have a custom shed builder app to help you visualize your shed before you commit to buying it!
Contact Us About Your Storage Shed Needs
Want To See What Your Custom Shed Could Look Like?
Curious about how a blue roof and grey siding would look? Dreaming about green shingles and caramel-colored siding? Luckily, our custom shed builder app can show you what your shed could look like with those or other color combinations! Click through the options below and look at all the different colors available.





Roof Color:

none




Siding Color:

none




Trim Color:

none




Door Color:

none




Paint Color:

none

Choose an option below and select available colors:

Roof:

Shingle Colors



Siding & Trim:

Trim Colors

|

Vinyl Siding

|

Paint Siding



Doors:

Doors
* Colors shown are approximate only, actual color may vary from pictured samples
How To Use the App
It can be exciting to browse structure options and window shop through galleries while you decide what you want from your shed. But, we know how fun it can be to see your ideas come to life for your structure. That's why we've added this tool to our website! The custom shed builder app is relatively easy to use and will help you see what your dream shed will look like when built. Follow these steps:
Underneath the photo of the shed at the top of the page, you will see green links. Click on one of the green links to see color options for one feature of the structure. You will see the color options pop up in the space underneath.

You can choose any colors for the selected feature until you like what you see in the photo.

Select a different feature by clicking on a new green link and repeat step two.

Enjoy experimenting with different color combinations until you find something you like!
Contact Us About Your Storage Shed Needs
---
Types of Custom Sheds We Offer
Once you've found a color combination you like, you get to think about the structure style you want. While the custom shed builder app approximates what your shed could look like on one type of shed, you are not limited to that design. We offer various types of fully customizable storage sheds with our high-quality materials and color options.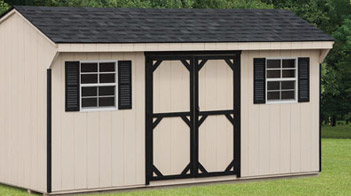 SHEDS
People use sheds for all kinds of things. Storage, a workshop, an artist's loft, or even just a place to practice your favorite instrument, a shed is a handy addition to any home. Available in wood or vinyl options, we can build our sheds in various sizes to accommodate your needs, no matter what! We have several pre-determined styles to choose from, and we can help you decide which will work best for you.
ANIMAL SHELTERS
Maybe you think of chicken coops when you hear "animal shelter," but that's not the only animal house we can make! We also have experience making homes for horses and dogs and run-in sheds for as-needed protection from the elements for animals that graze outside in large fields. These shelters are crucial to keeping your animals safe from predators, in the case of chickens, and from the weather, where other animals are concerned.
GARAGES
Whether you have an attached garage and need more covered parking spaces or are building a new home and want something detached for your parking solution, we have garage options. Some of our garages have storage solutions built right in, so you get double the benefits in one structure! Choose from one stall or multiple, and choose the size you want to make your garage space the most useful.
Shed Accessories
You can't have a custom shed without adding a few accessories! Just as accessories can add a bit of pizazz to your car or a favorite outfit, accessorizing your shed can help elevate the structure's look and make it your own. Choose from any of these accessories to make your shed stand out amongst the crowd:
Flower boxes
Flower box holder
Vents
Cupolas
Rent-a-box
4'x4' A-Frames
Ready to Order Your Custom Shed?
After you've had the chance to experiment with color options that you like on our custom shed builder and browsed the accessory options, it's time to get the shed you've wanted! If you're ready to talk today, please get in touch with us here at Stoltzfus Woodworks. We can't wait to build the shed of your dreams!
Contact Us About Your Storage Shed Needs