Want to Build a Personalized Shed? We Have Hundreds of Great Shed Options
Life is full of obligations, but home is where you get to relax and get away from it all. Adding a shed to your home gives you even more room to cultivate hobbies, store outdoor equipment, or even keep your gardening supplies! With so many shed options out there, it can feel like a daunting task to decide what you want. You want a personalized space, and Stoltzfus Woodworks wants to help you build the perfect shed for your needs.
Personalize your outdoor storage shed, garage, or potting shed with various options designed to enhance your building's appearance and add flexibility, convenience, and functionality. Whether you want a storage solution or a high-quality outdoor structure for a personal hobby, we can customize it. At Stoltzfus Woodworks, a builder of custom sheds near Lancaster, PA, we believe in building the shed or garage that YOU want!
Create Your Personalized Shed
Windows
While it might not seem like a big decision initially, the windows you choose can make or break the look of your shed! Size and placement are considerations to make when you are selecting windows for your structure. There are so many options available that you are sure to find something you like. Want help choosing your windows? Contact our expert shed builders today!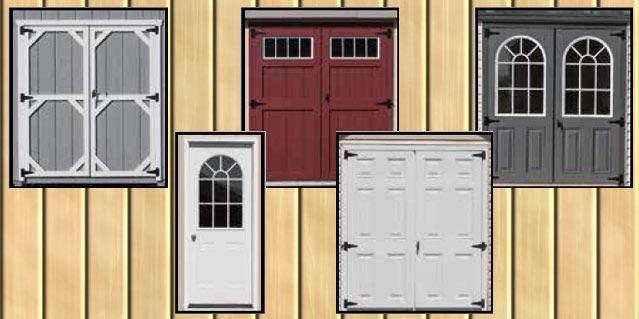 Doors
Choosing the doors for your custom shed doesn't have to be difficult with our large selection. We have single doors with windows best suited for gardening sheds or pool houses and double doors for easier access to things like wheelbarrows and lawnmowers. The double doors are also a common choice for structures that will house animals. If you aren't sure which doors to choose, we can help.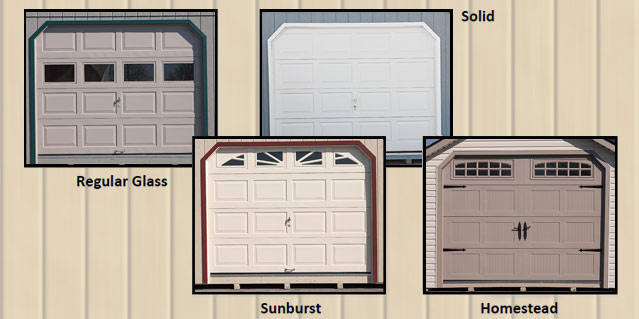 Garage Doors
Because garage doors are a significant part of the aesthetics of the shed, it can be a difficult choice! Much like how garages take up most of the visuals of the front of a home, the garage door will end up being the focal point of your separate garage structure as well. Browse our variety of garage door styles and choose from classic to more modern-looking doors.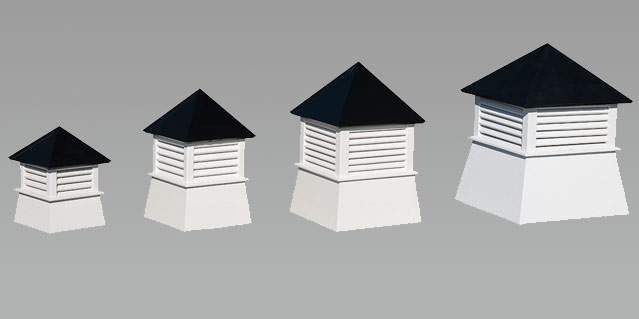 Cupolas
A cupola is a small structure at the top of a shed designed to allow for ventilation, and they also let some light into the building. Cupolas are particularly important to have on animal sheds because they help with condensation. When there is ventilation, the condensation can rise and exit the room instead of sticking to the walls, which is essential for the animals' good health.
Weather Vanes
A classic instrument used to tell the direction of the wind, the weathervane is both an ornamental and a functional piece. Since ancient Greece, they've been around, so you know that their style and appeal have true lasting power! Add one of these on top of your cupola for a more stylish-looking profile for your shed. This addition is one of the most popular shed options you can choose!
Create Your Personalized Shed
---
What's Your Favorite Color?
Color choice is entirely personal preference, and you want colors that reflect your style and the exterior of your home. You have unique tastes, and your customized shed should reflect that! We understand that customizing your shed can be both a challenge and a lot of fun. And having lots of color choices as part of your thorough shed options makes the process even more enjoyable.
Unlike other shed manufacturers, we offer a wide variety of colors for everything, from the paint applied to your shed to the colors of the shingles! Browse all our options below, but if you don't see something you want, contact us, and we will see what we can do for you!
Create Your Personalized Shed
Paint & Trim Colors:
You can choose to paint your high-quality woodsheds, and we have several paints and trim colors for you to look through and decide! Your color choices are personal to your style and your home's look, so we offer a variety of brighter, neutral, and dark colors to please every color palette.
| | | | | |
| --- | --- | --- | --- | --- |
| Almond | Brown | CWF | Beige | Chestnut |
| Avocado | Cape Cod Gray | Gray | Blue | Clay |
| Buckskin | Navajo | Green | Red | |
Vinyl Colors:
Our variety of neutral vinyl siding colors are perfect for all kinds of outdoor shed styles—horse barns, garden sheds, and workrooms alike. Plus, they are all complementary to the paint and trim colors we offer, so you know you are choosing an aesthetically pleasing siding to match your trim.
| | | | | |
| --- | --- | --- | --- | --- |
| Almond | Gray | Clay | Tan | Blue |
| Cream | White | Mist | Olive | Pearl |
Shingle Colors:
Shingles are the classic roof choice for all kinds of sheds. They are durable, aesthetically appealing, and can easily fit into the look of any home's décor. Shingles also add curb appeal to your shed, so anyone passing by your shed will get that wow factor, especially when they are in one of the eight different, beautiful colors we offer!
| | | | | |
| --- | --- | --- | --- | --- |
| Black | Green | Brown | Tan | Blue |
| Charcoal Gray | White | Slate | | |
---
Are You Ready to Build Your Custom Shed?
Not sure which shed options are suitable for you? Want something you don't see listed here? Contact Stoltzfus Woodworks today and get the answers to all your shed-related questions! Stop searching for "custom sheds near me" and contact us. You deserve to work with expert shed builders who can customize your outdoor structure to your exact specifications. When you are ready to customize your shed, give us a call at (717) 208-3152 . Our expert builders are ready and waiting to get started on your project.
Create Your Personalized Shed